Back To Our Services
There are two major components to any garage door setup: the door and the opener. While you can live without an opener, it is very inconvenient. You need to get in and out of your vehicle to open and close the garage door every time you need to pull the car in or out. It is just easier to have a garage door opener.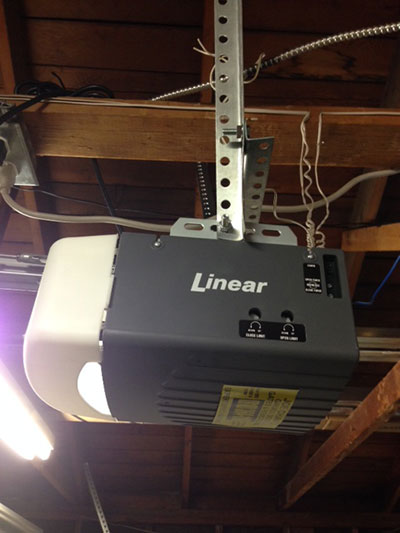 Garage Door Repair Santa Ana provides sales, installation, and service on a ton of garage door opener brands including:

• Genie
• Liftmaster
• Chamberlain
• Craftsman
• Sears
• Marantec

Our technicians have years of experience and advanced training to handle almost any garage door configuration including:

• Chain drive
• Belt drive
• Screw drive
It's one thing dealing with a damaged torsion spring and not knowing how quickly it can be fixed and another thing dealing with such emergencies and knowing that our technician will soon take over. Our company is professional! Once we promise same day repairs, our word is rock solid! With us, you don't have to worry about snapped cables, malfunctioning doors or misaligned sensors. Everything will be fixed in due time! Thanks to the experience and organization of our team, damaged components are replaced in timely fashion, the system is checked thoroughly and maintenance services do help the system to last longer. Your repair and installation needs are covered, the courtesy of our professionals is ensured and your safety is guaranteed.

If you have troubles with your garage door opener, call us here at Garage Door Repair Santa Ana. We offer service and repair of brands like Genie, Liftmaster, Chamberlain, Craftsman, Sears, or Marantec. We handle other brands with typical configurations like chain drive, belt drive, or screw drive. Snooping out the problem is easy with our experience and tools. We can do the repair and leave you with a working garage door.
Garage Door Repair Santa Ana is the best garage door company in Santa Ana:
We offer affordable rates for both commercial and residential customers.
We give same day service for most situations.
We help you with emergencies.
Our trucks are stocked with common repair parts to allow us to make quick repairs.
Our technicians have training in many brands and configurations.
We take pride in giving the best customer service.
Call us here at Garage Door Repair Santa Ana. We are ready to help you any time of day.
Back To Our Services